IRP
IRP Transactions
Submit supplements online for fleet renewals, new vehicle additions, registration transfers and more.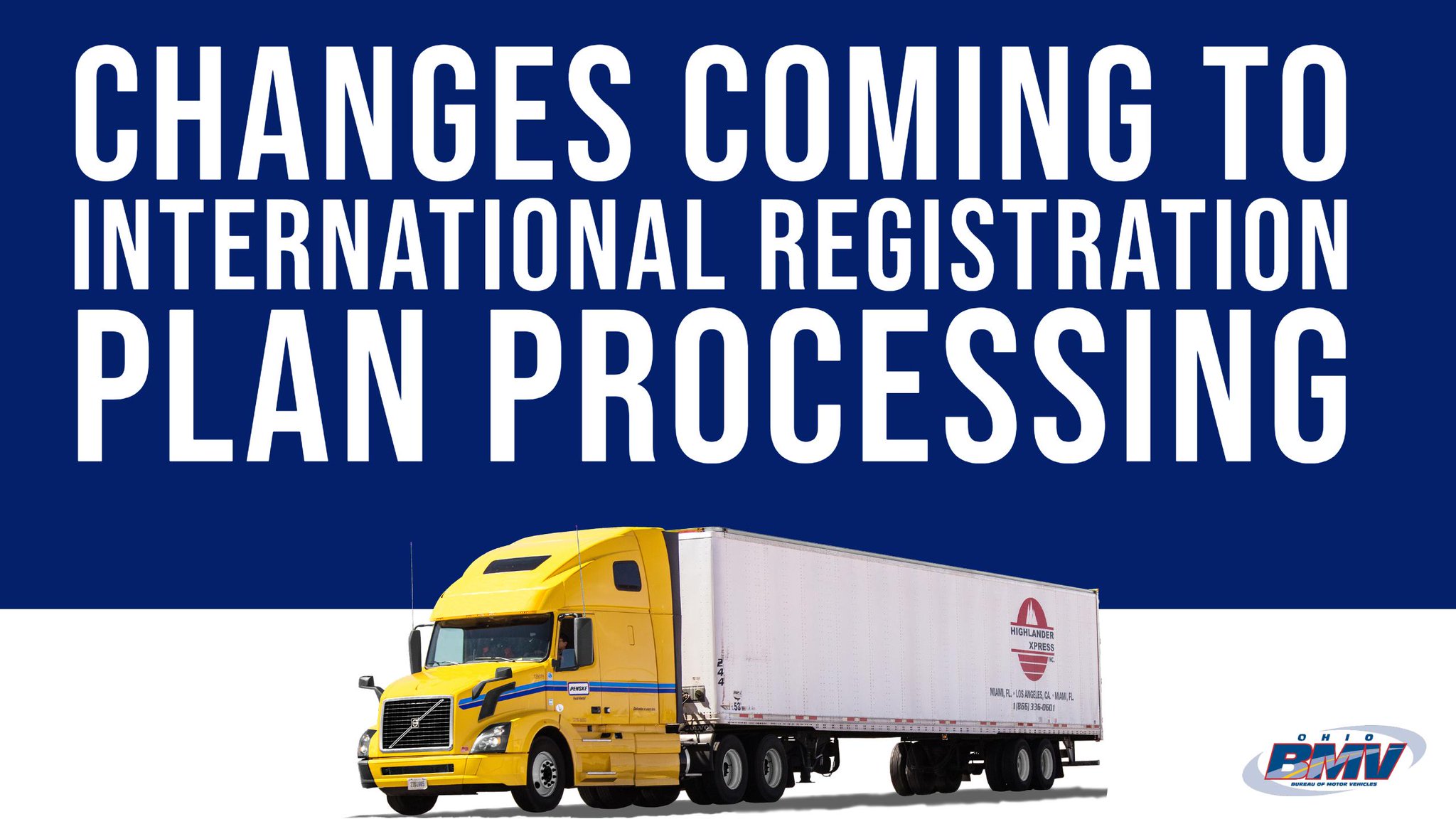 Beginning July 1, 2019, IRP transaction processing will move from IRP processing centers to centralized BMV processing, which includes the ability to renew IRP fleet registrations and make IRP invoice payments at eight local deputy registrar license agencies throughout Ohio. Additionally, there will be an updated internet-based self-service IRP system supported by a new IRP customer service and help desk unit at BMV headquarters.
What do these changes mean for you?
Mail, fax, emails, correspondence, application submission and payments will be processed through the new IRP unit
IRP plates will be mailed from a central, secure location
Seven new in-person deputy registrar locations will have the ability to conduct fleet renewals and make payments for all IRP invoices
IRP website will have a new look, be compatible with mobile devices and allow users to create an account with a unique user ID and password
Transactions including renewals, weight increases, USDOT # changes or replacement plate requests can be submitted and paid online 24/7 without support document review prior to credential issuance
Transactions including adding a vehicle and transferring existing registration to a new vehicle which are submitted with all required documents online will be invoiced within one business day
Re-prints of Registrar Cab Cards will be available at no cost for online users
International Registration Plan (IRP)
The International Registration Plan (IRP) is an agreement among 48 states (jurisdictions), 10 Canadian provinces and the District of Columbia whereby a motor carrier can register commercial vehicle fleets for travel in all IRP jurisdictions by filing paperwork with the home (base) jurisdiction. IRP registration is not mandatory.
IRP is a program for licensing commercial trucks, trailers and buses traveling in Ohio and at least one additional IRP jurisdiction. The commercial vehicle qualifies for IRP if it is used for the transportation of persons for hire or designed, used or maintained primarily for the transportation of property and has one of the following:
A power unit with two axles and a gross vehicle weight in excess of 26,000 pounds
A power unit with three or more axles, regardless of weight
Used in combination, when the weight of such combination exceeds 26,000 pounds gross vehicle weight
Qualified commercial vehicles are registered as apportioned vehicles.
For more information about IRP Registration Requirements download the IRP Carrier Manual, or go to the FAQ page.
Ohio Revised Code: 4503.04,4503.103, 4503.19, 4503.21, 4503.37, 4503.60, 4503.62, 4503.64, 4503.65, 4503.66
Ohio Administrative Code: 4501:1-8, 4501:1-8-02, 4501:8-08, 4501:8-09, 4501:1-8-10, 4501:1-8-12, 4501:1-8-15